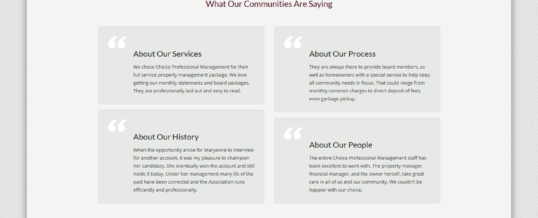 Welcome to the new and improved Choice Professional Management website.
Welcome! We have been hard at work updating the new website! It took us a few weeks but we are finally ready to push it live. Let us know what you think! Over the next few weeks we will add back the ability for home owners to be able to log into their own community for important information. We also plan to add alert and notification features to the homepage which we will use to for holiday closings, emergency closings, and weather alerts.
We have met a lot of new friends along the way and we would like to show you all where we came from and where we are headed.  Below are pictures of our previous websites.
We can't remember exactly when we launched our first website but this is a screenshot of the homepage circa 2008.
We debuted our second website in 2011. Completely redone and custom built. We provide more information online about our services and started updating news regularly.  A Contact Us form was added, and a system for home owners to log in and access community specific documents was implemented.